Civitan 2021 World Citizenship Award Honors Autism Advocate Lorri Unumb
Civitan 2021 World Citizenship Award Honors Autism Advocate Lorri Unumb, CEO Of The Council of Autism Service Providers
Unumb Recognized As A National Role Model For Advocacy Having Spearheaded Ground-breaking Autism Legislation In All 50 States.
Wakefield, MA – June 23, 2021 The Council of Autism Providers (CASP) is pleased to announce its chief executive officer, Lorri Unumb Esq, is the 2021 recipient of the prestigious Civitan World Citizenship Award.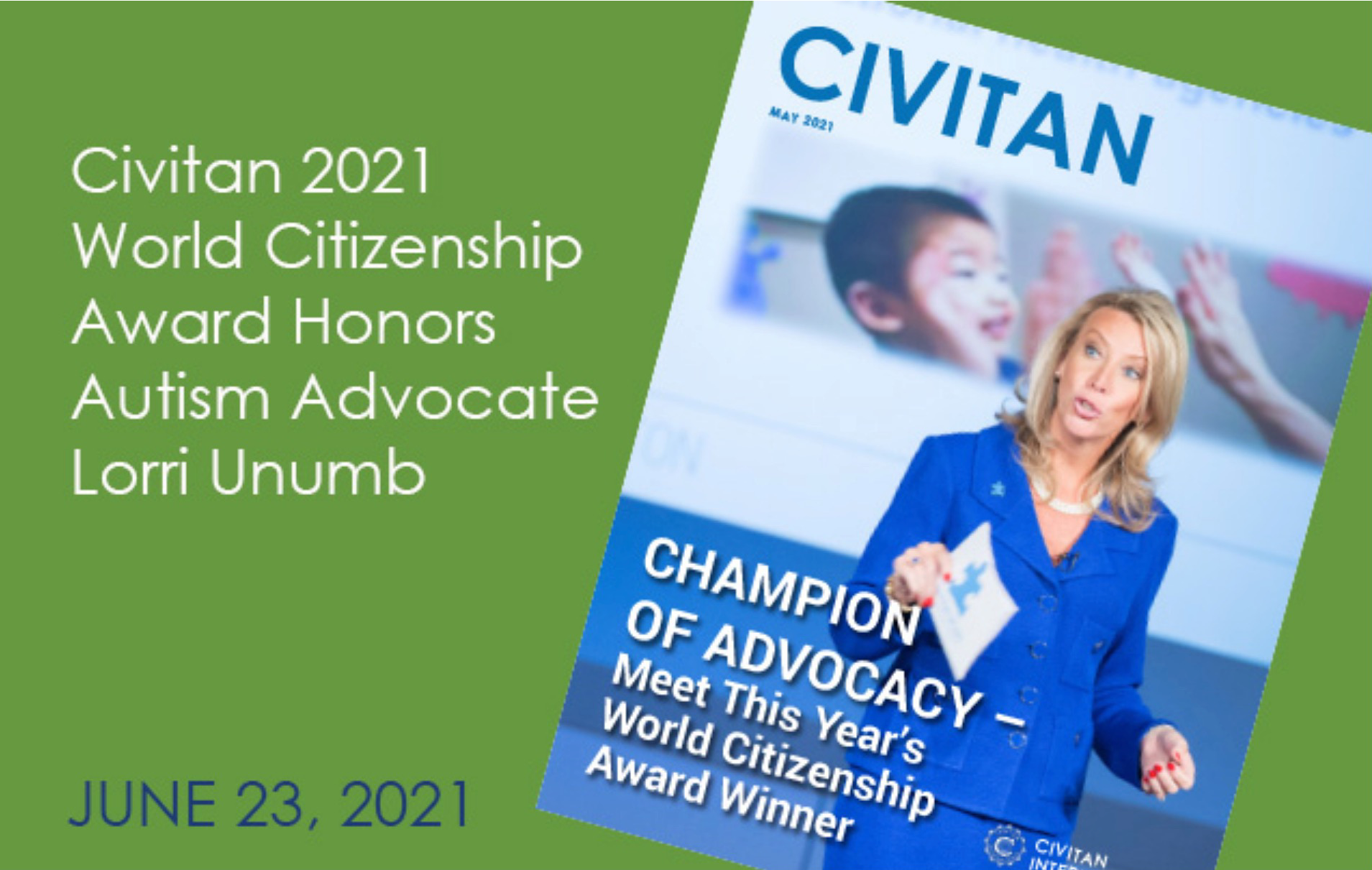 Civitan, whose members share a common belief in the value of compassionate community service, has been honoring outstanding men and women for more than 100 years. Past recipients include Winston Churchill, Dwight D. Eisenhower and Eunice Kennedy Shriver, founder of the Special Olympics.
Unumb, who was named CEO of CASP in 2019, has been a tireless legal advocate for nearly two decades for families and children struggling with autism spectrum diagnoses.
Founder of the Autism Law Summit, which has been meeting for 15 years, Unumb also served for a decade as the national head of state government affairs for the international nonprofit Autism Speaks. Unumb has received numerous parenting, humanitarian, and leadership awards.
Unumb's deep advocacy began when one of her three children received an autism spectrum diagnosis. In 2005, she successfully wrote ground-breaking autism insurance legislation for South Carolina, which was passed into law in 2007. The law brought insurance coverage to an effective evidence-based form of therapy called applied behavior analysis.
Since then, Unumb — who received her J.D. in 1993 from the University of South Carolina School of Law – has worked to ensure every state in the country offers insurance coverage for ABA. The 50th and final state reformed its law in 2019.
Unumb's award was announced in the May 2021 Civitan Magazine. It will be presented to her at Civitan's annual meeting in July.
To learn more about Unumb and her work, visit the online May issue of Civitan.
To learn more about CASP, membership, or applied behavior analysis, visit the CASP website.
About Civitan International
Civitan International is a Birmingham, AL-based international association of community service clubs founded more than 100 years ago by a former chapter of the Rotary Club. While initially focused on community projects, Civitan evolved to serve people with developmental disabilities. Civitan International has 40,000 members in 1,000 clubs in 29 countries around the world.
About the Council of Autism Service Providers
The Council of Autism Service Providers is a non-profit association of for-profit and not-for-profit agencies serving individuals with autism and other developmental disorders. CASP supports its members by cultivating, sharing, and advocating for provider best practices in autism services. CASP member agencies employ more than 50,000 professionals providing services to children and adults with autism across the United States. More information is available at www.caspproviders.org.