Council of Autism Service Providers Names

Vice President of Accreditation
Launch Of Applied Behavior Analysis Best Practices Accreditation Program Planned Next Year
WAKEFIELD, MA – June 8, 2021 The Council of Autism Service Providers (CASP) announced today that Erick Dubuque, Ph.D., BCBA-D, LBA will lead the development of the first nonprofit applied behavior analysis (ABA) accreditation program for autism service provider organizations based on industry best practices established by CASP. The accreditation program will launch next year and promote, standardize and provide accreditation of quality care for individuals with autism.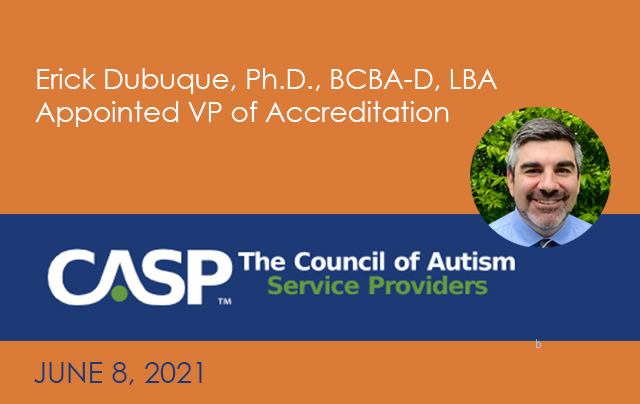 Dr. Dubuque has over two decades of experience in the autism field as a clinician, administrator, college professor, and scholar. His professional expertise and experience are focused on quality control in the training and application of ABA.
"CASP is fortunate to have someone of Erick's skills and background to build and launch an industry-wide accreditation program for providers serving individuals diagnosed with autism," said Lorri Unumb, Esq., chief executive officer, CASP. "He has a unique combination of the depth and breadth of experience — both hands-on and in leadership positions — required for this newly created position. There is a strong demand for an accreditation program of this type among the 250 CASP member autism service providers organizations serving 70,000 individuals nationwide as well as other providers in the industry."
About Dr. Erick Dubuque, Ph.D., BCBA-D, LBA
Dr. Dubuque is a licensed and Board Certified Behavior Analyst-Doctoral and most recently served as an Assistant Professor of Special Education at the University of Louisville in Louisville, KY. He has extensive experience coordinating graduate training programs in ABA domestically and internationally. As an accreditation administrator, expert witness, licensure board chair, and consultant, he has shaped legislation, regulations, and policies designed to protect the public and increase access to effective and ethical ABA services to improve the lives of individuals with autism.
He has a strong background in accreditation and assisted in the implementation and preparation of the Association for Behavior Analysis International's accreditation system for eventual recognition from the Council for Higher Education Accreditation. Dr. Dubuque also has direct experience as a clinician serving individuals diagnosed with autism spectrum disorders, as well as supervising the provision of ABA services across a variety of treatment settings.
He earned his Ph.D. and Master of Arts Degrees in Psychology from the University of Nevada, Reno, NV. His Bachelor of Art's Degree is from Westfield State University, Westfield, MA and is also in Psychology.
About the Council of Autism Service Providers
The Council of Autism Service Providers is a non-profit association of for-profit and not-for-profit agencies serving individuals with autism and other developmental disorders. CASP supports its members by cultivating, sharing, and advocating for provider best practices in autism services. CASP member agencies employ more than 50,000 professionals providing services to children and adults with autism across the United States. More information is available at www.casproviders.org.