CASP Publishes Applied Behavior Analysis Telehealth Parameters Best Practices Document
From A COVID Emergency Stopgap To Telehealth Industry Standards Document
WAKEFIELD, MA – May 16, 2022, The Council of Autism Service Providers (CASP) announced today the publication of "Practice Parameters for Telehealth-Implementation of Applied Behavior Analysis (ABA), Second Edition."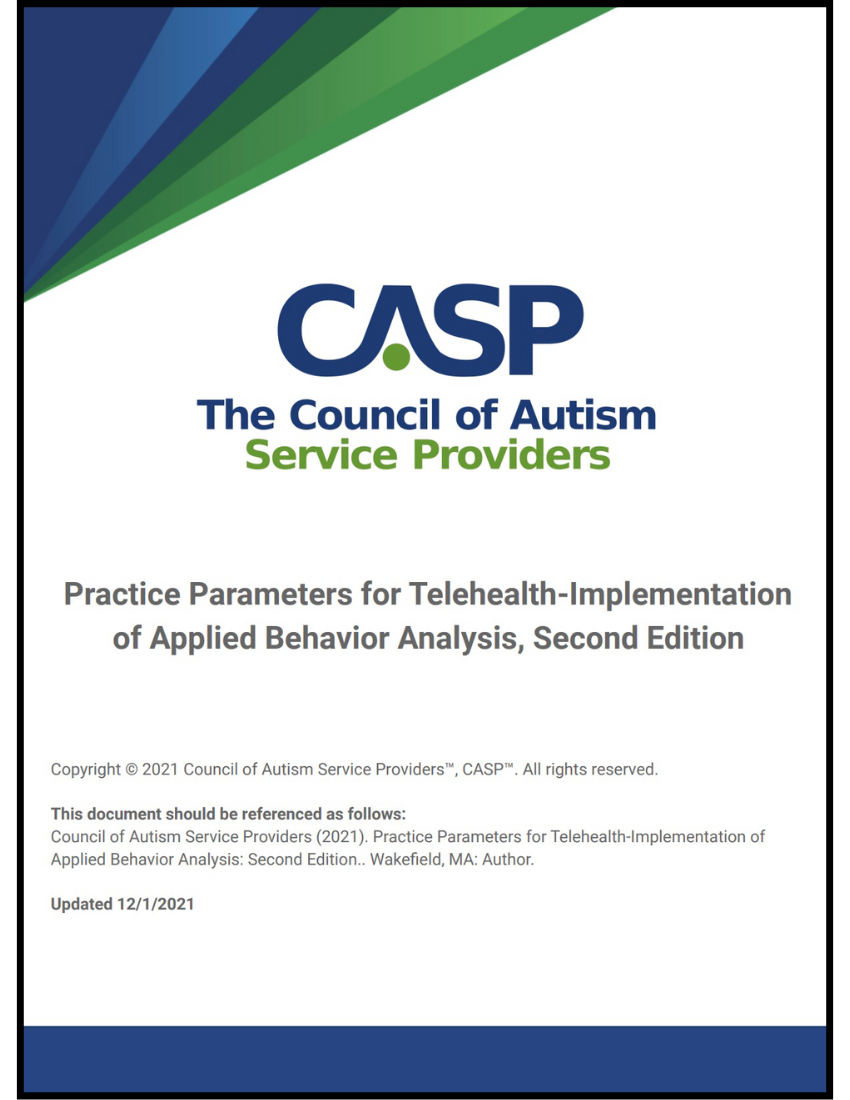 The document was originally drafted in eight days as an emergency measure to ensure autistic children and adults received needed treatment during the pandemic through telehealth delivery models. Today, the document has blossomed into an 80-page "how-to" resource on telehealth models of delivery of ABA assessment and treatment modification processes and telehealth-based research. Download the document here.
"When COVID restrictions were first implemented, the pandemic left autistic children and adults with little to no access to treatment. It was a serious healthcare crisis. CASP members responded by working 24/7 to complete the initial telehealth parameters document in only eight days. It was widely distributed and is becoming an industry standard for telehealth delivery of ABA services," said Joy Pollard, Ph.D., BCBA-D, LBA, co-founder and CEO, Clinical Operations, Behavior Change Institute, LLC.
The document was created as a clinical and technical resource for autism service providers, parents of autistic children, and insurance companies to ensure safe, effective telehealth delivery of ABA services in the patient's home or community. Autism service providers can implement the best practices in the document to improve both the quality of telehealth care and providers' understanding of quality telehealth services.
"Telehealth ABA services can help fill a need among underserved rural locations and mitigate staff shortages at some autism service provider organizations," said Lorri Unumb, CEO, Council of Autism Service Providers. "Using 'Practice Parameters for Telehealth-Implementation of Applied Behavior Analysis' will help autism service providers reach more patients and deliver more services safely and effectively."
For more information on CASP's Telehealth Document, click here.
About the Council of Autism Service Providers
The Council of Autism Service Providers is a non-profit association of for-profit and not-for-profit agencies serving individuals with autism and other developmental disorders. CASP supports its members by cultivating, sharing, and advocating for provider best practices in autism services. CASP member agencies employ more than 70,000 professionals providing services to children and adults with autism across the United States. More information is available at www.caspproviders.org. To join CASP, click here.