CASP Organizational Guidelines
Cost

The CASP Organizational Guidelines are available to purchase by the individual chapter or in several bundled options. Content is available in two formats: online access only or as a PDF download.


Access to the CASP Organizational Guidelines is free to employees of CASP Member organizations. See table for non-member costs: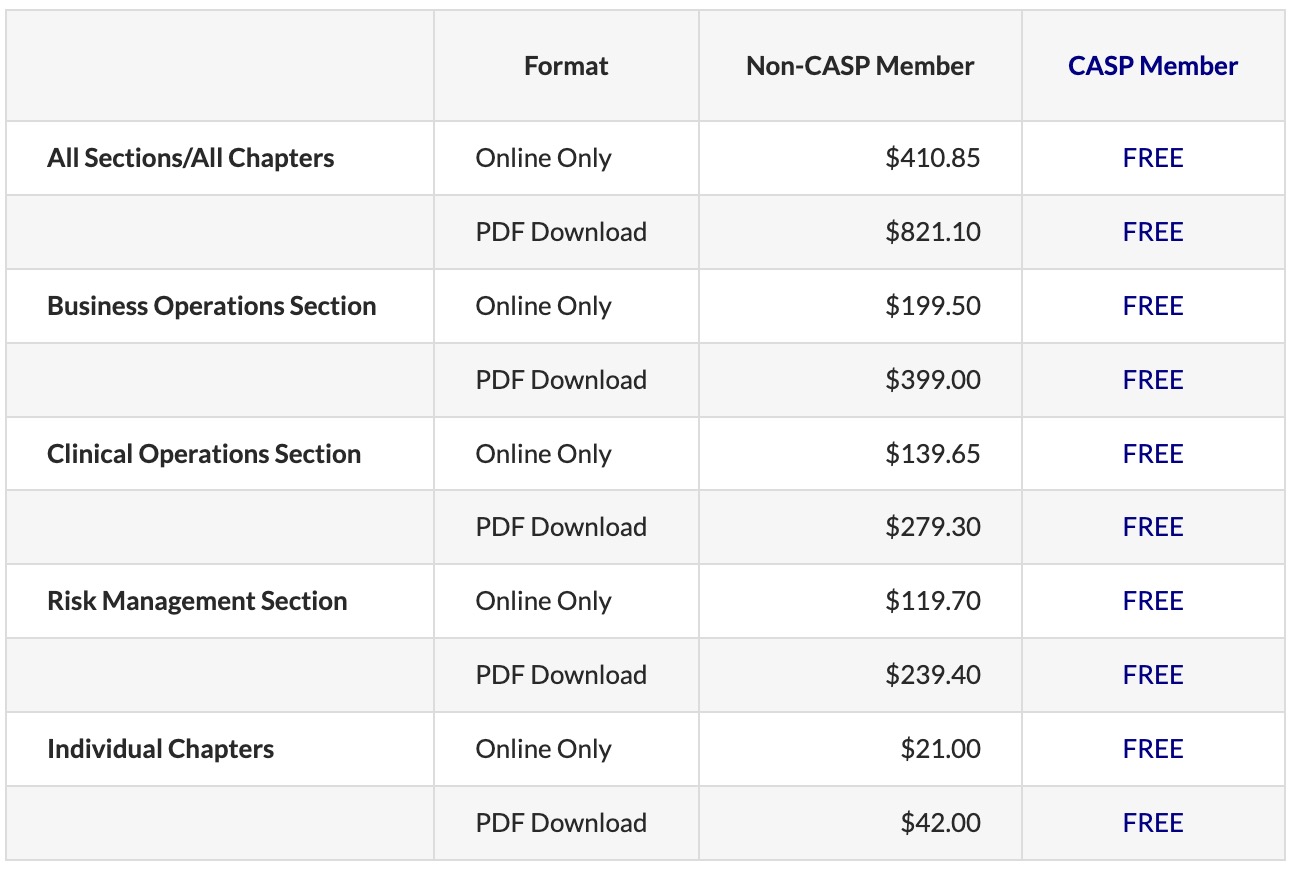 The CASP Organizational Guidelines will be released beginning in January 2022, at which time 11 of the planned 23 chapters will be available. The remainder of the chapters will be individually released throughout 2022 as they are completed.
If a bundle is purchased that includes unreleased chapters, these chapters will be automatically added to your Thinkific dashboard upon their release at no extra charge. You will be notified of their release via email.
All sales are final. Refunds will not be issued.


Accessing the CASP Organizational Guidelines

CASP utilizes an online learning platform (i.e., Thinkific) to distribute the CASP Organizational Guidelines. This is the same platform that is used to host the CASP Online CEU Center. Please note:
If you already have a Thinkific account with CASP, please do not create a second account. You will use the same login credentials to access the CASP Organizational Guidelines.
If you are not a BCBA, please enter "N/A" where asked to provide your BACB certificate number when creating an account.
If you are using a coupon code at checkout, please read first.

To purchase the CASP Organizational Guidelines, please select the preferred format (e.g. online access only or PDF download) for either the selected bundle or the individual chapter in the Table of Contents below. This will take you to CASP's Thinkific site for a brief overview of the chapter (or section) and to complete your purchase.



Table of Contents


Purchase All Sections
Purchase a Section Bundle
Purchase Individual Chapters
Chapter titles appearing in italics indicate that the chapter is unreleased.


Disclaimer
The CASP Organizational Guidelines are intended for informational purposes only and do not represent professional or legal advice. Many variables influence and direct policies and practices of organizations that provide ABA services. CASP and the authors of the CASP Organizational Guidelines assume no liability or responsibility for the application of this resource in the delivery of ABA services.
The information presented in the CASP Organizational Guidelines reflects the consensus of many subject matter experts but does not represent the only acceptable practices. The CASP Organizational Guidelines do not reflect or create any affiliation among those who participated in their development.
CASP does not warrant or guarantee that the information and recommendations provided in the CASP Organizational Guidelines will apply or should be applied in all settings. Instead, they are offered as an informational resource that should be considered in consultation with organizational leadership, professionals employed by these organizations, independent legal counsel, regulators, and health care funders and managers.