Member Spotlight: Kelly Bermingham, M.A., BCBA of People's Care Behavioral Health
Date posted
October 18, 2021
Accomplished Industry Leader Contributes In Many Ways To Improving Autism Care And Patient Well-being
A Few Minutes with People's Care Behavioral Health's Kelly Bermingham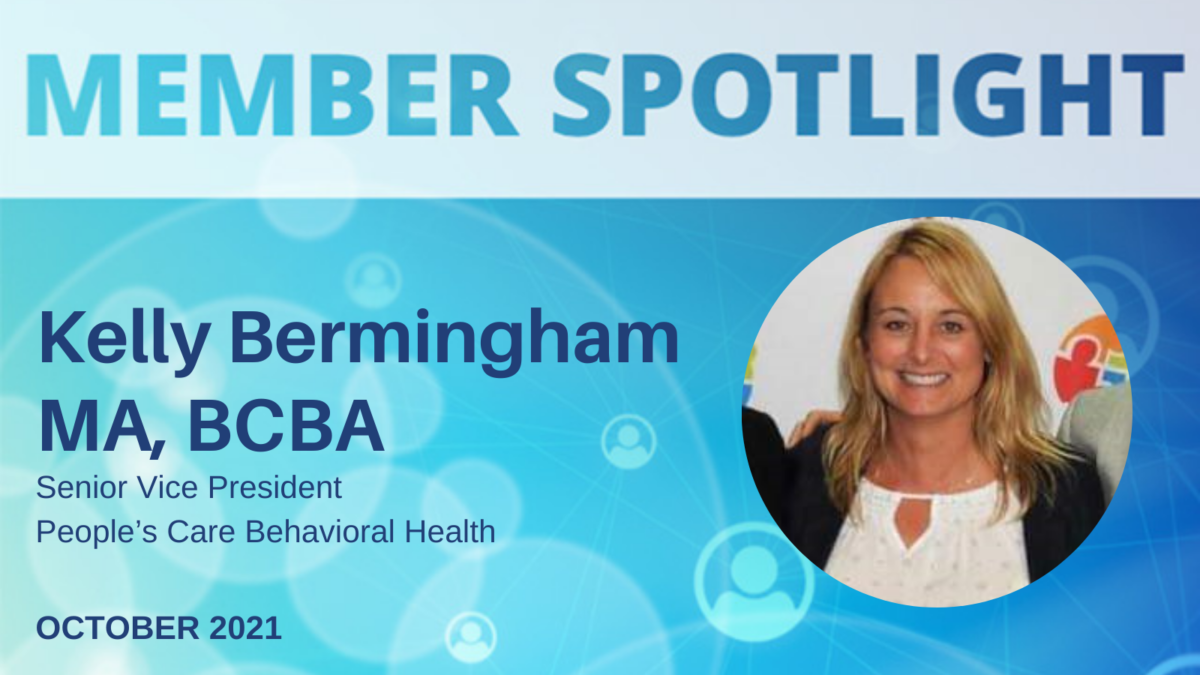 The next subject in the Council of Autism Service Providers' (CASP) regular series of Member Spotlights is Senior Vice President at People's Care Behavioral Health Kelly Bermingham (MA, BCBA). People's Care in California offers Functional Behavior Assessment, 1:1 in-home or in-school ABA therapy, social skills group, and parent training.
We are grateful to Kelly for taking the time out of her busy schedule to speak with us. We frequently read about her activities and achievements, and we wanted to hear firsthand about her career.
A published author, Kelly's 27-year Autism & Developmental Disabilities career has been spent working and supporting families, children, schools, and therapists on best practices and evidence-based services with a goal of moving from 1:1 learning to group learning. She is experienced in understanding and working with severe/profound autism and serves as co-leader of CASP's Profound Autism and Caregiver Collaboration Special Interest Groups.
She has also served as an adjunct professor at Chapman University, held board positions on several organizations, helped found a school for middle school and high school children on the Autism Spectrum, and a sports league for children with autism.
Here's what she had to say . . .
Q. What are you most proud of at People's Care Behavioral Health?
We are part of a larger organization that provides services for individuals that turn 22 years old and may need employment, residential support, or community program support, so we are able to support individuals of all ages as an organization.
Q. What, in your opinion, is the single biggest challenge faced by autism service providers today?
The primary challenges for any healthcare service delivery organization will always be ensuring that clients and patients are receiving the highest quality care and that the care that they receive results in measurable clinical outcomes, which leads to meaningful improvements to their quality of life. As an industry, we should be reaching out to families and adults with autism to learn from their experiences to help measure what quality of life means to them. Most families want their children to be happy, healthy, safe, as independent as possible and have a Tribe. Our work should help families toward these goals.
Q. How do you explain the value of using ABA to a parent or guardian?
ABA is a systematic therapeutic approach that is evidenced-based and is designed to help your child learn in the manner they learn best and to acquire new skills to help them reach their goals that include being as happy, safe, and as independent as possible. We work alongside you to help you and your child be the best you can be.
Q. Why did you join CASP?  What has CASP meant to your organization?
CASP is made up of some of the best of the best in the ABA/Autism community. Access to these members, particularly during a pandemic, has been invaluable and worth every penny and more!
Q. When you are not working, what do you do for fun?
I spend lots of time with autism-related organizations and am particularly proud of the September 26th project, the annual emergency preparedness checkup for autism and special needs families. I enjoy biking, and hiking and can't wait to travel again!
Learn more about People's Care Behavioral Health and the services that they provide on their website.