Health Insurance Appeals Guide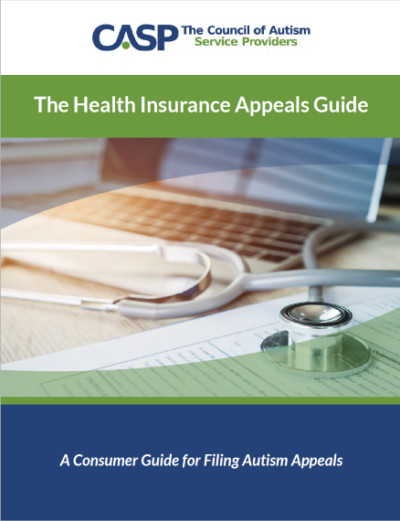 Foreword
Health insurance played almost no role in the treatment of autism before the turn of the century. Although autism was (and still is) a health condition diagnosed by a physician or psychologist pursuant to the Diagnostic and Statistical Manual of Mental Disorders, the health insurance industry left to other systems the financial burden of autism treatment.
All of that changed with the enactment of autism insurance mandate laws throughout the first two decades of the 21st century. States mandated that health insurers bear the costs of evidence-based autism treatment for an individual properly diagnosed by a physician or psychologist. This autism insurance reform movement reshaped the entire landscape of autism treatment, in particular Applied Behavior Analysis (ABA), by framing the funding of treatment in terms of medical necessity. Autism service providers learned a new language, created new "insurance manager" positions within their businesses, and embraced a whole new way of thinking about funding for autism services.
In this environment, the importance of understanding and pursuing appeals of denied claims
has never been greater. A successfully appealed claim can make the difference between ongoing treatment for an individual with autism and unreached potential due to an inability to afford treatment. With a keen understanding of the importance of insurance appeals to families and providers, The Council of Autism Service Providers releases this Guide to set forth clear information that consumers and treating providers need to know when appealing denials of autism services. This Guide was written by leading health insurance experts to help educate individuals about their appeal rights and explain the steps in the appeals process.
As part of the efforts to promote health equity, federal and state regulations have been adopted to promote due process for patients who have been denied care because an insurer will not authorize medically necessary coverage or has otherwise made adverse benefit determinations. Unfortunately, the goals of the insurance appeals process are undermined when patients and their treating providers are not aware of their appeal rights and how to best leverage the internal and external appeals systems to try to get medically necessary care covered. Even when patients and providers understand their appeal rights, health plans may still uphold their denial of care.
In addition to this Guide, CASP offers training that further providers' understanding of the appeals process when there is a denial of care for autism. More information is available on the CASP website.
A special thanks to The Kennedy Forum, Denials Management and Schooner Strategies for helping develop this Guide. If you would like to file a parity complaint, please go to www.parityregistry.org.
Please also see CASP's other resources for providers, funders, and families, which include the CASP ASD Practice Guidelines for Healthcare Funders and Managers, and the CASP Practice Parameters for Telehealth Implementation of Applied Behavior Analysis.
Lorri Unumb, Esq. Chief Executive Officer
October 14, 2020
---